I put a lot of thought into choosing this week's theme,


The Allegory of Spring





Botticelli's famous painting Primavera

will be our inspiration this week.



There are nine figures in this mythical painting,
and I researched books and the internet to find what the possible meaning,
or the allegory Botticcelli was trying to convey.
The title Primavera means 'in the Spring'
Starting from the left of the painting we see Mercury,
the messenger of the gods, holding back the clouds
with his caduceus, a symbol of fertility, wisdom and healing.
Next are The Three Graces,


Charm, Beauty and Creativity.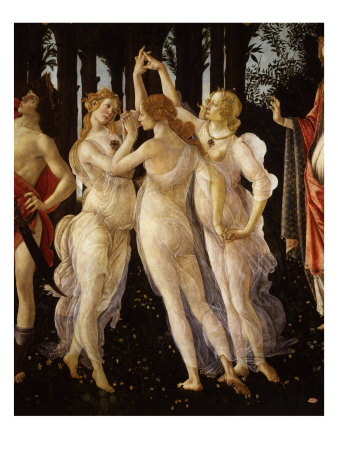 In the center Cupid, the god of love, flies above his mother,
Venus, the goddess of love,gardens and fertility.
The right side of the painting has three figures,
Zephyrus, god of the west wind,
with Chloris, goddess of flowers.
When Zephyrus took Chloris as hi bride,
she was transformed into Flora, goddess of spring.
The garden itself is amazing, with 500 identifiable plants
and 190 different flowers.
There are many meanings or stories to be imagined from this masterpiece.
Is cupid blind-folded to show love is blind?
Is Earthly love the link to the spiritual graces?
I am giving you a lot to think about,
and many directions you can choose to explore in this week's challenge.
In the Spring.
Create an Allegory.
Something with a hidden meaning.
Something from your soul.
♥Lisa
PS: The rules for the challenge are on the right sidebar.
Inspiration Avenue is looking for new members
Here
.
And if you missed meeting our newest member, meet Diane
Here
.