A wire and bead chicken for sale at our robots.
This week I wanted to make some art pieces with chickens and roosters,
so I decided to
challenge our artists to pay
Homage to the Humble Hen (and Rooster and Chicks).
I just love chickens. To me they are such beautiful animals
and I suppose they symbolize the
simple life. My grandmother had many chickens on the farm
and I just loved waking up to the call of the rooster in the mornings!!
I lost my childish innocence one morning when I saw a chicken
being slaughtered for that evening's pot. I have never eaten chickens
(or any other animals since)! And I am so happy that such big strides have
been made with regards to free range chickens and egg-laying chickens.!
When I travelled in India, we visited a game reserve and
there you find wild chickens running around in the forest,
alongside the peacocks!! What an unexpected sight these were.
In South Africa we have a large informal business sector and
you can buy almost anything next to the road and especially at robots! Some or our local informal businessmen sell their own handcrafts and art and
they make intricate chickens - some made from wire,
some from wire and beads; very exotic ones made
from old plastic shopping bags and of course, ones made from brightly
A chicken in Xhosa is called an inkuku. These are all made from recycled plastic bags :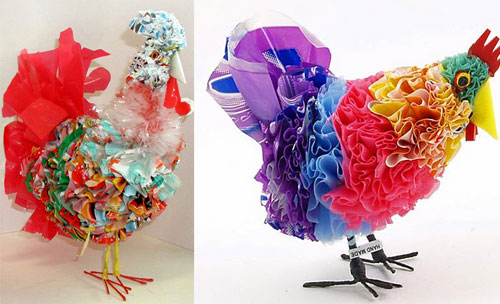 I hope that these chooks inspire you to pick up your tools and to pay homage
to these beauties in some way.
Here is a beautiful mosaic of a chicken by Martin Cheek www.martincheekmosaics.com
This spotted chicken by Warren Kimble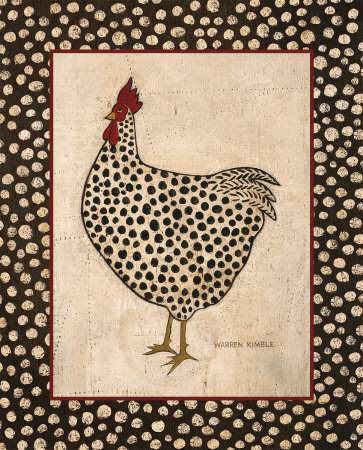 And what about a spot of chicken yoga?
Have fun and be sure to visit one another!!