Sunrise, sunset
Sunrise, sunset
Swiftly flow the days
Seedlings turn overnight to sunflowers
Blossoming even as we gaze
Breathtaking sunrise over Canyon National Park, Utah
We have all encountered sunrises and sunsets. Phenomenal ones. Join in with Inspiration Avenue for this week's challenge and share one or several pictures that you especially enjoy, and we can all marvel at breathtaking moments. Look for pictures in print media, paint one, snap one. It matters not how you come across them, just share!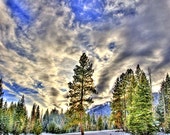 " I did not know until now that clouds could be like this. I did not know that the sky is the sea and that clouds are the souls of happy ships, sunk long ago. I did not know that the wind could be tender, like hands as they caress - what did I know - until now?" - Unica Zürn
Now show us your favorites and link in with Mr. Linky below.
___________________________________________________________